This article is reproduced from https://hobartsreviews.com/5th-wheel-thunder-1ft-electric-bike/ with the explicit authorization of the original author.
The new 5TH WHEEL Thunder 1FT is a reliable and efficient folding fat tire electric bike for your daily commute or weekend getaway! In today's review, I will describe some of the outstanding features and specifications that make the Thunder 1FT a top-tier folding electric bike! After you are done with the review make sure to watch my video as I take you on a ride to explain each feature in detail. I will give you my opinion on how everything works and how the Thunder 1Ft rides. So let's get started with my review of the 5TH WHEEL Thunder 1FT electric bike!
First Impressions  of the 5TH WHEEL Thunder 1FT Electric Bike
The 5TH WHEEL Thunder 1FT folding fat tire electric bike is an exceptional e-bike that combines power, convenience, and versatility. Its powerful 500-watt motor and 4″ wide fat tires, offer exceptional performance on or off-road. When at peak power (1000W) this electric bike can easily overcome inclines and hills of 25-30° without any issues. I really like the 4″ wide fat tires, which give me really good traction and stability when on pavement, dirt roads or off-road trails. They also provide extra cushion over bumps, curbs, rocks and other things that usually would make your ride uncomfortable. The adjustable suspension in the front and the rear is really comfortable and provides a personalized riding experience. With a range of up to 50 miles on a single charge, and high quality construction, this is a contender for one of the best folding fat tire electric bikes you can buy on the market today!
5TH WHEEL Thunder 1FT Features and Specifications:
Motor & Top Speed
500W Brushless Rear Hub Motor. Top Speed: 20MPH (USA) and 15.5 MPH (EU)
Battery & Range
48v 10Ah Removable Battery that takes 4-5 hours to fully charge. Range is 30 miles (Throttle Only) and up to 50 miles (Pedal Assist)
Brakes
Front And Rear Mechanical Disc Brakes. Be careful for the first 10-15 miles as they wear in.
Screen & Info
The LCD screen provides speed, trip, odometer, speed mode, and headlight indicators. Long press the power button to power on and off the eBike.
Tires
20" x 4" Pneumatic fat tires provide a very comfortable ride on or off-road.
Suspension
Front fork adjustable and locking hydraulic suspension. Rear adjustable spring suspension.
Warranty
5th Wheel provides a 2 year warranty on the Thunder 1FT major components. 1 year on other components.
Miscellaneous Features
Shimano 6-speed, Weight 49lbs, High Strength Aluminum Frame, Load Capacity 220lbs, IP54 Waterproof Rating.
The Portability and Convenience of a Folding Electric Bike
The 5TH WHEEL Thunder 1FT stands out for its foldable design, making it incredibly convenient for transportation and storage. For some potential electric bike owners the large size of an eBike can be a problem. Not with the Thunder 1FT as it can fold into a small package to fit almost anywhere. I like how easy it is to un-latch and fold both the bike and the handlebars. Its super easy!
Enhanced Range and Performance
The Thunder 1FT folding fat tire electric bike offers a powerful 500w (1000W Peak) motor with an impressive range, thanks to its pedal assistance feature. When using the throttle alone, the Thunder 1FT can travel up to 31 miles on a single charge. However, by actively pedaling, you can extend the range to an outstanding 50 miles. This makes the Thunder 1FT an exceptional choice for long adventures among fat tire electric bikes.
The top speed is 20mph and the powerful 500W motor gets you there fast and feels like it wants to go more. Unfortunately 5TH WHEEL has limited the Thunder 1FT to just 20mph via the controller. I'm confident it can handle 8 more miles per hour.
Charging And Removable Battery
Charging the Thunder 1FT folding electric bike is really easy. 5TH WHEEL supplies us with a 110v-240v charger and charges at 2A respectively. The charging port is on the side of the frame underneath a cover. The e-bike is powered by a 48v 10Ah battery made from high quality 18650 cells that can be fully charged within 4-5 hours. The removable battery can be conveniently charged indoors, and reinstalled into the Thunder 1FT in just seconds.
There is a lock on the battery for added security so nobody steals it while you are away from the eBike. The batteries are one of the most expensive parts of the bike so we don't want them stolen. 5TH WHEEL supplies us with a key to unlock and remove the battery. Its not required to remove the battery but is an added convenience feature that makes the Thunder 1FT extra special.  
Riding Experience On The 4″ Fat Tires
The 5TH WHEEL Thunder 1FT provides a really nice riding experience, thanks to its 4″ wide fat tires. I wasn't quite sure about them in the beginning but I am a fan of them now. These fat tires offer exceptional stability and control, providing a smooth ride on different surfaces. Whether you're cruising on pavement or exploring off-road paths, the Thunder 1FT delivers a comfortable and exhilarating ride.
Furthermore, the adjustable suspension system allows you to customize the ride according to your preferences. You can soften or stiffen your suspension to your liking. You can even lock the front suspension so you have no cushion at all. The 4″ fat tires and the adjustable suspension provide optimal comfort on your eBike riding adventures!
How Are The Brakes?
The 5TH WHEEL Thunder 1FT is equipped with front and rear mechanical disc brakes. Unfortunately, the brakes did not work very good when I first started riding the Thunder 1FT. For the first 10-15 miles the disc brakes did not stop the eBike effectively and the pads squeaked really loud. I was really worried the brakes would be a fatal flaw on an otherwise really nice eBike. 
But I have to admit that after riding the Thunder 1FT for a while and using the brakes they started to work better and better. There must be a coating or something on the brake pads that needs to wear away before the brakes are effective. Now they work great! So well that they will lock up the tires and skid me to a stop quite easily.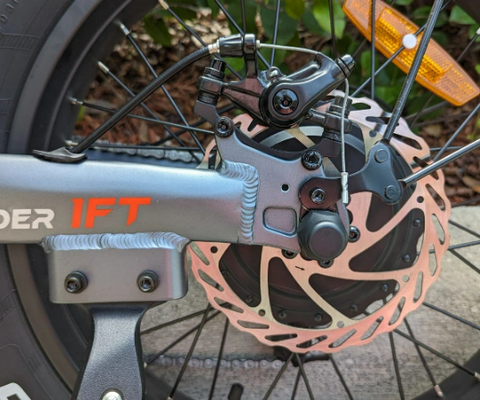 Final Thoughts On The 5TH WHEEL Thunder 1FT
In conclusion, the 5TH WHEEL Thunder 1FT Folding Fat Tire Electric Bike proves itself as a true game-changer in the world of e-bikes. With its powerful motor, impressive range, and adjustable suspension, it offers an unparalleled riding experience for adventurers and commuters alike. The foldable design adds a layer of convenience, making it easy to transport and store, while the 4″ fat tires ensure stability and control on any terrain.
Whether you're cruising on city streets, exploring nature trails, or embarking on thrilling adventures, the Thunder 1FT is the perfect companion. Its blend of power, portability, and comfort sets it apart as one of the best electric bikes on the market. If you're in search of an e-bike that truly delivers on all fronts, the 5TH WHEEL Thunder 1FT Folding Fat Tire Electric Bike is the ultimate choice. Get ready to embark on an electrifying journey and experience the freedom of riding with the Thunder 1FT.
If you would like to purchase a 5TH WHEEL Thunder 1FT directly from 5TH WHEEL.
Learn More
.